The Centre currently has 1,040 archaeological records.
The excavation work of the Iberian settlement of the Puig Castellar brought much of the background. Among his finds were the bonfire discovered in one of the village rooms, now in the Torre Balldovina Museum.
There is also a very good representation of the finds in excavations of several Neolithic settlements in the bobiles
of Badalona, and several Roman period samples collected also in Badalona.
Apart from this important work of cataloging, we still have a third of the materials to review, or end up assigning archaeological times.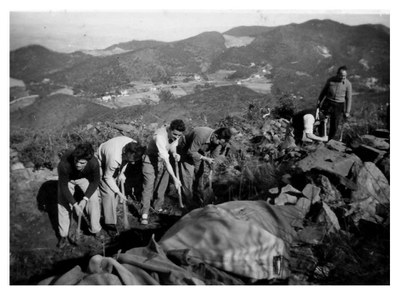 Excavations in the Iberian village Puig Castellar (1954). Work done by members of the Archaeology Group of the Puigcastellar Excursionist Centre.